---
Resources for Children, Youth & Families
Hope you find some of this helpful as you make sacred space at home both within and without. Call me if you want to talk about any of this. I have gleaned it from the Vineyard and hope you find it meaningful and useful.
Blessings,
Tammy Lee +
Kids are going to hear about coronavirus, so be prepared to answer questions and talk to them about it.
---
This page is a resource for parents to work with kids at home to keep them connected to church and grow in their faith with Jesus.  These are just ideas and helpful resources.  Nothing is mandatory.  May your family be safe and well.  Know that Jesus is watching over us all.  We give thanks for the good staff of St James Church in New York state for sharing their resources!
Prayer- Thank you, God, for sending Jesus. And thank you, Jesus, for obeying your Father. Your love for Him is what let you allow others to nail you to a cross – and your love for me is what kept you there. Help me to love like you. AMEN.

What is Easter?
Easter is the day that Jesus, God's only Son fulfilled the promise long foretold to rise from the dead.  Jesus, having been dead for 3 days came back to life on Easter. As believers in God and Jesus, we celebrate this day as we celebrate Christmas!  Flowers, songs, Alleluias, and bells are all a part of the joyous day!  Jesus through his death gave the world the greatest gift to everyone.  All who believe in Him will live forever with him.
Kids Video:  CLICK HERE
Songs:  CLICK HERE
CLICK HERE
CLICK HERE
Prayer –
Jesus showed us many things,
To love and share and dance and sing.
To learn and pray, to help and care,
He promised he'd always be there.
He died but then came back to life,
Let's celebrate for he's alive!
Amen.
Verses & Prayers
In this world you will have trouble.  But take heart! I have overcome the world.
John 16:33
Dear Jesus,
Always stay close to me when things hurt, when I am scared, when I don't know what to do-be with me Jesus.  Teach me to calm and to breath in your love.  Thank you for always being by my side.  AMEN
No power in the sky above or in the earth below-indeed, nothing in all creation will… separate us from the love of God.  Romans 8:39
Heavenly Lord, You were there in the beginning, creating and watching over all living things.  You are with us now and nothing can stop Your endless love for your children.  AMEN
(The Lord) will cover you with his feathers.  he will shelter you with his wings.  His faithful promises are your armor and protection.  Psalm 91:4
Dear God, help us to trust you and not be afraid.  Just as a mother bird covers her babies with her wings to protect them, God will cover you with promises of love.  Look for rainbows in the sky, remembering the loving care of Noah and his family.  AMEN
Jesus looked at them and said, "With man this is impossible, but not with God; all things are possible with God." Mark 10:27
Loving Jesus, help us to believe in you, trust you, and look for what you want us to do in life.  Even when things seem impossible, show me the way.  Remind us that nothing is too hard when we rely on You Jesus and the lessons you taught us.  AMEN
Fun Crafts at Home


Salt Painting:  Paint a Cross
Items:  Construction paper, Salt, Glue, and watercolor paint
Using glue-draw a cross shape.
Place salt on the glue-lots!
Let it dry. (a good hour)
Use paints to dab color on the salt.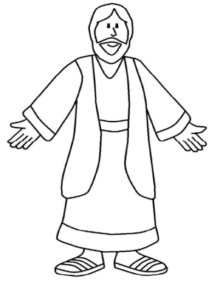 Flat Jesus Around the House
As we are all isolated, maybe it would be good for kids to know they are not alone.  Have them make a flat Jesus and take pictures of all the places Jesus is in your house and even outside.
Click here to print a template of Flat Jesus to color.

Inspirational Rocks
Items:  Tempura Paint, rocks
Use your creativity to paint some rocks with fun words or inspirational sayings.  Then leave the rocks as you go for walks by trees, a neighbor's yard, etc.