From the Associate:
Over the past few weeks, I have had the opportunity to be at Trinity Center for various reasons. For me, Trinity Center is one of those "sacred spaces." Famous Author and Professor Joseph Campbell said, "your sacred space is where you can find yourself over and over again." There are very few places in this world where I can go and find myself over and over again, but Trinity Center is one of them. It is where I went to camp, served on camp staff, lived for a year while teaching at Sound to Sea, and discerned with the Commission on Ministry about ordination to the priesthood. Anyone who has been to Trinity Center knows how special it is to be on that property and in that space.
Another sacred space for me would have to be Sewanee. It is 13,000 acres of forest on top of a mountain in rural Tennessee with a University and small town in the middle. You are a 45-minute drive from Chattanooga and an hour from Huntsville, Alabama. I never expected to attend seminary in the middle of a worldwide pandemic. What started as a typical seminary experience quickly shifted halfway through my first year. The second year was extremely difficult with limited events, limited chapel services, and no visitors from off the mountain. However, those limitations forced me to explore those 13,000 acres. In times of hiking with friends, with Belle, and in times of prayer, I found just how beautiful and restoring that space could be. Again, it was a space where I could find myself over and over again.
Where is your sacred space? Do you have more than one? What about that space allows you to find yourself over and over again?
As we quickly approach a new school year and program year, I hope you will be able to find some time to visit your sacred space.
Peace,
Ashley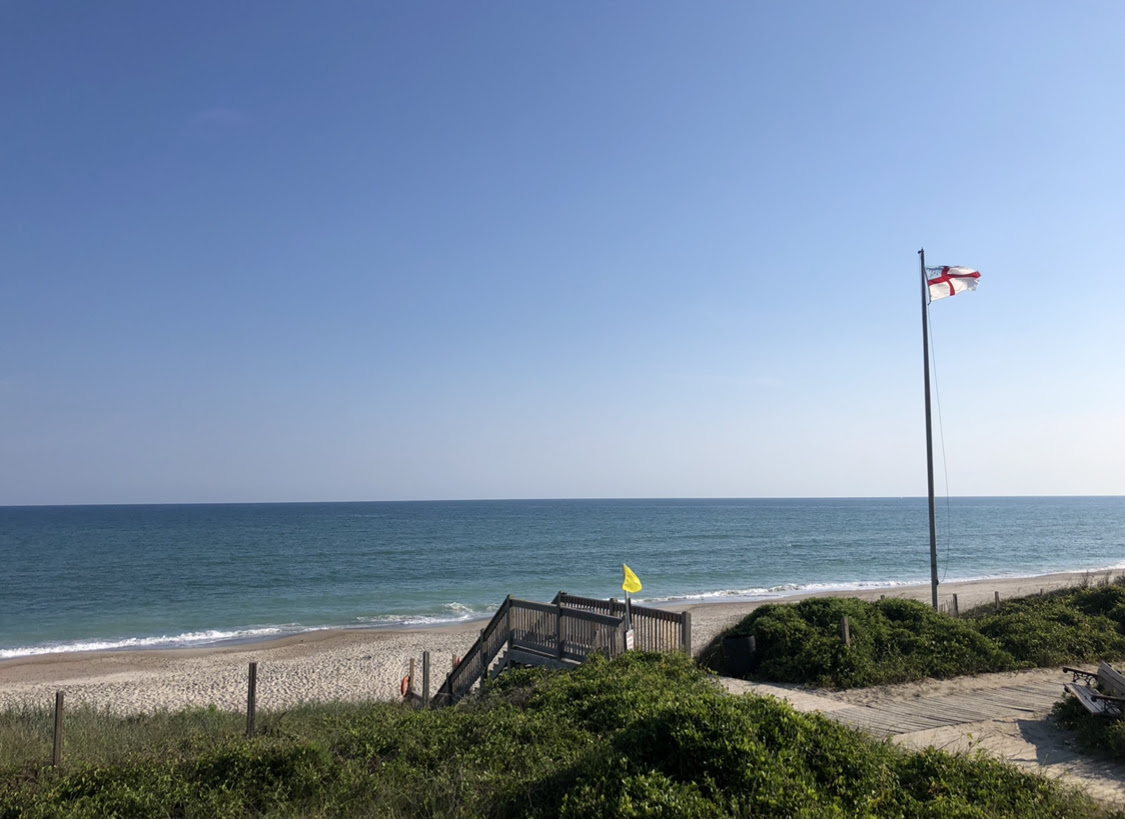 ---
---
August 14, 2022: The Tenth Sunday after Pentecost
The service bulletin for the 10:00 a.m. service may be found here: Holy Eucharist Service Bulletin. The order of service may be found on page 355 of the Book of Common Prayer. If you are unable to attend in person please join St. Paul's on their St. Paul's Facebook page at  10:00 a.m. for live stream of our service.
Sunday, August 14, 2022
8:00 a.m. Holy Eucharist, Rite I
10:00 a.m. Holy Eucharist, Rite II
We welcome guest organist Shelia Link at the 10:00 service.
Shelia will be our organist until our new organist, Matt Hill, begins on August 21.
Tuesday, August 16, 2022
8:30 a.m. Morning Prayer
Wednesday, August 17, 2022
12:00 p.m. Noon, Holy Eucharist
Thursday, August 18, 2022
5:30 p.m. Evening Prayer
                                                               
The 10:00 a.m. Service on Sunday and the Wednesday noon service will be live streamed and available to watch on-demand following the service: St. Paul's Facebook* page and St. Paul's YouTube channel*.  
*Automatic Closed Captioning is available for Facebook or YouTube by clicking the    icon on your browser page.
---
---
Church School Registration is now open!
Please make sure that you register your young people for Church School for the 2022-2023 school year so we can have an accurate count of who to expect from week to week.
You can grab a paper copy of the registration form from the church office or use this link: 
https://forms.gle/fxpAYFZttWc2JczT7
.
We are so excited to have your young people join us!
---
---
St. Paul's Nursery
Hello, Everyone! As you may know, our nursery has not been open since before the pandemic. I would like to see our nursery available again this Fall. You can help us by supplying some new toys, books, and cleaning supplies from our Amazon Wish List here: 
https://tinyurl.com/stpaulsnurserylist
.
Thank you all for your constant support of Children's and Youth Ministries at St. Paul's.
Peace,
Ashley Simpson
---
---
Coffee Hour Set To Return!
The Vestry's Fellowship Commission is delighted to announce that coffee hour will return on September 11th, following both the 8:00 a.m. and 10:45 a.m. services—and we need hosts! Duties include preparing coffee,  lemonade and simple refreshments such as pretzels and cookies. We invite our fellow parishioners to sign up on the master schedule to be posted in the parish hall kitchen or, alternatively, by being in touch by email with  Carol Smith (church@stpaulsbeaufort.org) in the church office with your preferred date and service time.
Many, many thanks and we look forward to seeing you all!!
Look for the sign-up sheet on the bulletin board in the Parish Hall.
---
---
Five Loaves Mission
Are you interested in "serving" others?
Volunteers are needed for Five Loaves Mission. 
It's on Monday evenings from 4:45-6:15 pm in St. Paul's Parish House. It's a great opportunity to serve free carryout meals one Monday a month (or more frequently if you are interested). 
Please contact Nancy Ustach for more information at
nustach@gmail.com
.
---
---
This year's bazaar silent auction will have a slightly different look. Because of the return to an in-person event which will feature many of our traditional sales rooms, the auction will be limited to gift certificates. Please consider shopping at one of your favorite area businesses (retail or restaurant) and purchase a gift certificate of $50 or higher to donate to the auction.
If you'd like to try something a bit different, such as hosting a dinner for 8 or supper for a season, these will be welcomed and should add an extra zing to bidding.
Our gift certificates have gone for more than purchase value and have added significantly to the bottom line.
We have commitments already to Friendly Market and Harbor Specialty. We look forward to adding to the list. Commitments are needed by Sept. 15.
If you have questions or want to chat about auction ideas, ECW contact Sarah Jo Safrit.
---
---
'
The Cathedrals of England
' our fall pilgrimage, October 2 to 11,  has recently had two places open up. To review the full itinerary
click here
. Should you have questions or need further information please be in touch with Adeline Talbot either at
atalbot@studiotraveler.com
or 336.312.5654.
We'd love to have you with us!
---
---
Those for whom prayers have been requested:
 for members of the St. Paul's Family, Friends, and for the Departed
(To add your name or the name of a loved one to the prayer list, contact the St. Paul's Office at 728-3324 or email church@stpaulsbeaufort.org. Individuals will remain on the prayer list for thirty days.  To keep the person on the list longer, simply contact the Office with that request at the end of the thirty days.  The person to be listed must give permission for their name to be included in this public prayer request list.)
---
---
Outreach for August – Boys & Girls Club of Beaufort
Beaufort's Boys and Girls Club meets after school daily and in the summer at 601 Mulberry Street and provides a safe, fun, and structured environment for youth ages 6 to 18. Its mission is "to enable all young people, especially those who need us most, to reach their full potential as productive, caring, responsible citizens."  Volunteers are needed as homework helpers and at events.  For further information, contact Joe Smith, parish liaison, at dolphinrun@ec.rr.com.
If you would like to donate to the Beaufort Boys and Girls Club, please do so through "Online Giving" on our website (www.stpaulsbeaufort.org).  Alternatively, you may donate with a check payable to St. Paul's Church with "Outreach" on the Memo line.  Checks may be mailed to the church.
---
---
Pastoral Care
Please contact the office at 252-728-3324 if you have a pastoral emergency. For all other needs or questions please email church@stpaulsbeaufort.org.
---
St. Paul's Episcopal Church
215 Ann Street
Beaufort, NC  28516
252-728-3324
church@stpaulsbeaufort.org
www.stpaulsbeaufort.org