---
---
From the Rector:
Dear Friends:
I just finished listening to Bishop Curry's address concerning the events of these past weeks. As usual he is eloquent, inspirational and thought provoking. We are embedding it today for your hearts and minds to process and hear. As we enter what is certain to be a tumultuous week in our nation I invite you to do the two things he will suggest. Find a way to bless someone with whom you disagree and with whom you agree. Secondly, pray. Pray the words our Savior Christ taught us when he said, "thy Kingdom come, thy will be done on earth as it is in heaven." It is a time when it is easy for rage to be our operative go-to emotion. It is a time when hurling insults at those who behavior does not reflect our own would be just too convenient. It is a time when social media runs the risk of being an agent of grace or a dispenser of chaos. All of these things have in common us. We are the ones who determine the next set of outcomes. You do have a choice; and there will a come a day for all of us when God will ask us what choice we made; whose light, or whose darkness masquerading as light, we have chosen to live by. I pray we can discern the difference between the two.
Keep the Faith and let the faith keep you.
Tammy+
---
Worshiping From Home
January 17, 2021: The Second  Sunday after Epiphany, Holy Eucharist, Rite I
---
---
Vestry Class of 2023
At the annual meeting held virtually on January 10, 2021, vestry members for the class of 2021-2023 were elected. They are: Pennylloyd Baldridge, Jane Gordon, Amanda Schoden, and Joe Ustach.Thank you Vestry Class of 2020
The vestry thanks outgoing members Laura Mosier, Carl Ragsdale, Sarah Jo Safrit, and Bill Snyder for their dedication and service to St. Paul's.
Daughters of the King is an international Order for women of the Episcopal Church. Daughters dedicate themselves to a life of prayer, service, and personal evangelism. All women of the parish are welcome. If you are interested in joining please contact Nancy Stephenson or Michelle Lasky by January 31, 2021.
---
---
Epistle Deadline
The deadline for submissions for the February issue of The Epistle newsletter is January 20th.
---
---
The 2021 Episcopal Church Year Guides are now available. Please contact the parish office if you would like one.
---
---
Crosswinds is meeting!  St. Paul's youth have been gathering on Sundays for some fellowship and reflection on Gospel.
To keep everyone as safe as possible, we are following the latest scientific advice and the guidelines created for small groups by our church. We are meeting outside. We are staying at least six feet from each other. We all start with hand sanitizer. Everyone wears a tight fitting cloth mask the whole time. Each participant has a bag of materials that they use each week so we are not sharing materials. We are asking people not to come to youth group if they have had "close contact" with anyone diagnosed with COVID-19 or if they are showing any of the symptoms of COVID-19 as defined by the CDC.
The future is still uncertain about how often we will get to meet. Since we are meeting outside, the meetings are weather dependent and the time is dictated by the setting sun. We will try to meet the following Sundays in January:
Sunday Jan. 17
Sunday Jan. 24
I think we will have to meet from 3:30 to 5:00 to have some daylight. However, if I can work out some lights, we may meet from 5:00 – 6:30. If the weather turns iffy, I will update the Instagram page an hour before the scheduled time. You do not need an Instagram account to check the page. Visit https://www.instagram.com/crosswinds_youth/
If you have a child, grandchild, niece, nephew, or neighbor in the sixth to twelfth grade and you would like to get emails about youth group, please email me at frank.sherman@gmail.com.
---
---

Click here or the above graphic to learn the latest News & Notes from the Episcopal Diocese of East Carolina.  Be sure to check out the Dioceses of East Carolina website: diocese-eastcarolina.org for lots of information and opportunities. Some of the items included are listed below:
January Formation Leader Gatherings
• Thursday, January 21st at 7 PM
• Monday, January 25th at 4 PM
Are you responsible for coordinating Christian Formation in your parish for any age? We would love for you to join us for conversation and community.
Registration is required to receive the ZOOM information.
Register Here
Join St. Paul's Wilmington…
For a variety of upcoming Christian Formation offerings for adults on Zoom. They are glad for anyone around the diocese to join them!
Origins of the New Testament
taught by Cleve Callison- Jan. 17, 24
Studies in Mark
taught by Rev. Ray Hanna for 4 weeks beginning Jan. 31st
Dust Bunnies in the Pews
discussion led by Kathryn Hedgepeth will be a Lenten series beginning on Feb. 28th.
For more information or to register for any of these, contact
Royster Hedgepeth
.
---
---
The Parish Office will closed on Monday, January 18, 2021 in observance of Martin Luther King, Jr. Day. If you have a pastoral emergency please call the parish office at  252-728-3324 and follow the prompts to leave an emergency message for Rev. Tammy Lee.
FOOD PANTRY COLLECTION
Tuesday, 9:00 a.m. to 12:00 Noon
Drop off St Paul's Church Office Building Back Porch. Monetary donations are also being accepted. You may make a donation online at the St. Paul's website,
www.stpaulsbeaufort.org
, or by dropping a check off at the church.  Please be sure to indicate on your donation that it is for the Food Pantry collection.
---
---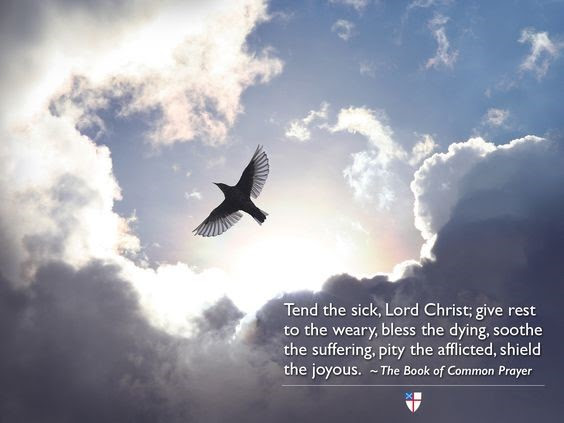 Those for whom prayers have been requested:
for members of St. Paul's Family and Friends
(All persons listed must give permission for their name to be included in St. Paul's prayer request list. This is to protect their privacy and respect their wishes.)
---
January Outreach – Hope Mission
A hot noonday meal is served every day of the week at the Mission Soup Kitchen to those in need. Monday through Friday, meals are prepared by the staff. On Saturday and Sunday, volunteers take over the cooking and serving. From January through October this year, the Mission served 36,636 meals.  Additionally, the staff prepares around 40 meals a day for a Morehead City Meals-on-Wheels program.
Hope Mission also maintains overnight shelters for the homeless and recovery houses. Through October this year, this added up to 4,210 nights.
Hope Mission's care for those in need includes emergency financial assistance. Through October of this unusually stressful year, total emergency assistance exceeded $40,000.
St. Paul's has been a steadfast financial supporter of Hope Mission and we intend to maintain that commitment in the coming year. Please consider making a monetary donation this month. You may do so easily by using the "Online Giving" feature of our website, www.stpaulsbeaufort.org.  Or you may mail in a check payable to St. Paul's Church with "Hope Mission" in the memo line.
If you have a question or if you'd like to volunteer at Hope Mission, contact our liaison, Sarah Jo Safrit at sarahjos66@gmail.com.
---
Pastoral Care
Please contact the office at 252-728-3324 if you have a pastoral emergency. For all other needs or questions please email church@stpaulsbeaufort.org.
---
---
St. Paul's Episcopal Church
215 Ann Street
Beaufort, NC  28516
252-728-3314
church@stpaulsbeaufort.org
www.stpaulsbeaufort.org