Click above to view Rev. Tammy Lee's message to St. Paul's family and friends.
From the Rector:
Dear Friends:
The Christmas before we moved to Beaufort a friend gave us a copy of a book called How to Read Water: Clues and Patterns from Puddles to the Sea. It is filled with all sorts of interesting tidbits including how to navigate, gauge depth, forecast the weather and other sorts and conditions. I am reminded of a comment made by St. Augustine about miracles. He said that "miracles are not so much about a change in the natural world but rather a change in how we perceive the natural world."
We are spending a good deal of time these days thinking about the natural world as we prepare for a potential hurricane/tropical storm, (Seems like we just did this last year
) keep track of this pandemic, and try desperately to keep our gardens alive. I talked with Holton Eastman earlier this week about his garden and what it took to make sure it produced. He is growing cucumbers and tomatoes; okra and watermelons and it is indeed the battle of the bugs, but he tends it daily. Our lives are meant to be tended daily…to be "read" if you will. We cannot always change what happens to us in this life…. I cannot stop that hurricane from taking out a second dock or yet another roof. I cannot eradicate COVID nor can I control the arrival of the Japanese beetles, aphids or mold but I can control my response to them. I can change the way I see what is before me. I can choose to see that God is somehow in the midst of the madness, offering his presence, his help, his wisdom, his hope. I can open my mind to what else might be learned from these things that cannot be changed only lived through or learned from. So many things are possible if only we believe.
Keep the Faith and let the Faith keep you!
Tammy Lee+
The wardens and I are pleased to announce that Nancy Barber has accepted the position of Business Administrator at St Paul's.  She began her work on Thursday is so excited to begin a new career path which includes a multitude of tasks to serve our community. She worked for the Guilford County Sheriff's Office as an Agency Business Manager for 31 years before retiring in March 2020.  Nancy is a lifelong North Carolina resident who attended Atlantic Christian College (now Barton College) in Wilson, NC where she received a Bachelor of Science degree in Business Administration.   She and her husband, Jimmy, are relocating to Newport, NC from Summerfield, NC.  They have a son, Leland who is married to Maggie Rand and they live in Summerfield, NC. Their daughter Hayley recently graduated from Campbell University and is pursuing post graduate work.  Please join us in giving Nancy a warm St Paul's welcome.
---
---
---
---
Sunday, August 2, The Ninth Sunday after Pentecost, Holy Eucharist, Rite I
Join St. Paul's on their St. Paul's Facebook page at 9:00 a.m. for our service. The service booklet can be found here: Holy Eucharist August 2_Service_Bulletin. The order of service may be found on page 323 of the Book of Common Prayer.
Sunday's readings can be found here: Eighth Sunday after Pentecost.
---
We will have the following opportunities to connect through online experiences. Be sure to look for emails and check our Facebook page for more information. Subscribe to our YouTube channel here. Follow us on Instagram .@stpaulsbeaufortnc.
Daily Lectionary Readings may be found here: The Lectionary Page.net.
Wednesday, August 5: Noonday Prayers, St. Paul's Beaufort Facebook
Children's Chapel, Thursday, August 6 will be posted on St. Paul's Facebook  at 12:00 p.m.   Don't forget to have your light and your bell ready.
Sunday, August 9: The Tenth Sunday after Pentecost, 9:00 a.m., Holy Eucharist, Rite II
St. Paul's Facebook .  The service booklet will be posted once it has been finalized.
Watch any of the services we have live streamed at any time!
All of the services from Holy Week are available to be viewed again if you missed any of the services that were live streamed on Facebook Live, or would like to view them again, the services can be viewed at St. Paul's Facebook. and on St. Paul's YouTube channel.
Please note that you do not have to "be" on Facebook to participate in the live streams of services. All you have to do is click Facebook and when it asks if you want to create an account click "Not Now". You will be able to see all of St. Paul's posts, but not able to comment on them.
If you have any difficulty connecting to any of the above links, please contact the church office at church@stpaulsbeaufort.org. We will be happy to call you and walk you through the steps.
---
---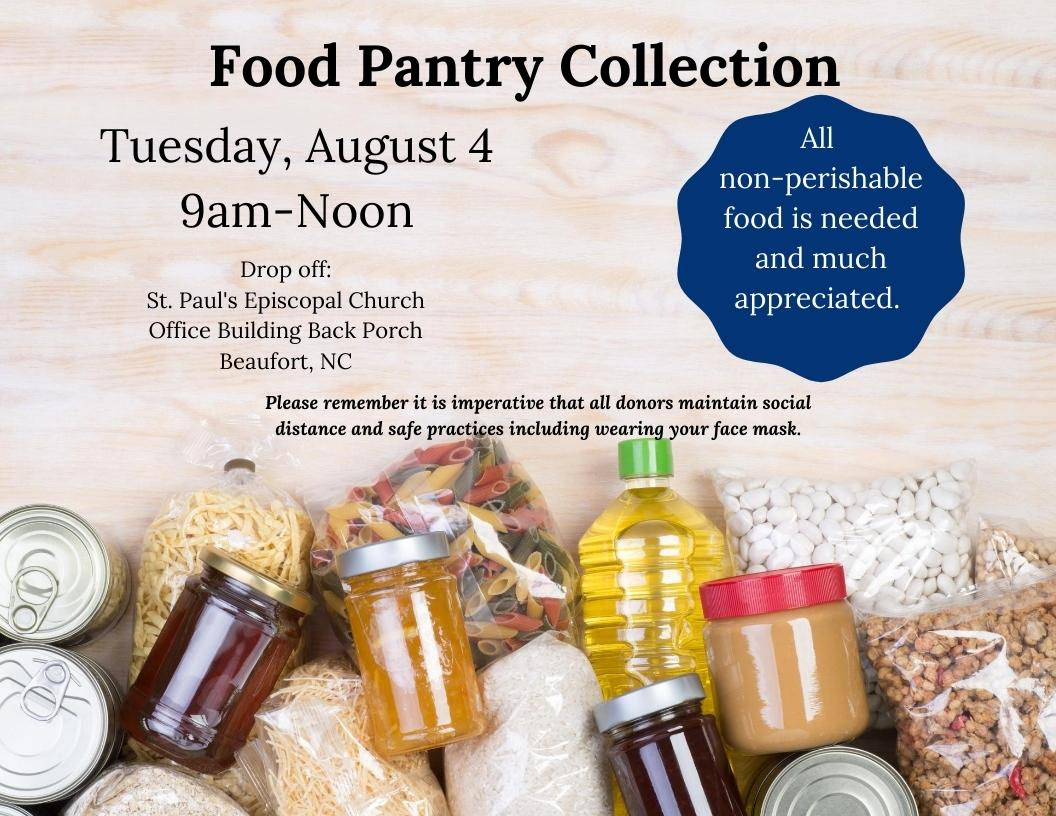 FOOD PANTRY COLLECTION
August 4, 9:00 a.m. to 12:00 Noon
Drop off St Paul's Church Office Building Back Porch. Monetary donations are also being accepted. You may make a donation online at the St. Paul's website, www.stpaulsbeaufort.org, or by dropping a check off at the church.  Please be sure to indicate on your donation that it is for the Food Pantry collection.
---
---

Those for whom prayers have been requested:
for members of St. Paul's Family and for friends.
(Names are omitted from this posting  to protect their privacy and respect their wishes.)
---
---

Remember to look for the Monday email from St. Paul's for the latest video update on the ECW Fall Bazaar.
---
---
---
---
Update:  Summer Bible Fun.
Due to a delay in the mail caused by the current pandemic situation Summer Bible Fun is not ready.  We are so sorry for this unexpected delay and hope that you will bear with us as we navigate these uncharted waters we find ourselves in. Please look for emails with more information soon. 
---
---
Pastoral Care
Please contact the office at 252-728-3324 if you have a pastoral emergency. For all other needs or questions please email church@stpaulsbeaufort.org.
---
---
August Outreach – Boys and Girls Club of Beaufort
Our featured outreach ministry for August is Beaufort's Boys and Girls Club. The Club meets after school daily and in the summer at 601 Mulberry Street to provide a safe, fun and structured environment for youth ages 6 to 18. Its mission is "to enable all young people, especially those who need us most, to reach their full potential as productive, caring, responsible citizens."  Volunteers are needed as homework helpers and at events.  For further information, contact Joe Smith at dolphinrun@ec.rr.com.  Joe has happily served as parish liaison to the Club for over 15 years and would be pleased to pass the baton to someone who would like to take over that role.  If you are interested, please contact David DuBuisson at cddubuisson@gmail.com.
We encourage all parishioners to support the Boys and Girls Club, as it prepares for the new school year, with a special August gift, either in-kind or money.  A list of needed supplies follows. We are ordering certain items that need to be purchased in bulk with the expectation of reimbursement out of cash donation. Make checks payable to St. Paul's with "Boys and Girls Club" on the memo line. Or use the Church's online payment system found at www.stpaulsbeaufort.org.  Supplies may be dropped off at the church office back porch on weekday mornings. Please let Carol Smith know when you are coming. Thank you as always for supporting this vital service.
Supplies Needed:
Hula Hoops
Basketballs
Pencils
Colored Pencils
Crayons
Markers
Journal Notebooks
Notebook Paper
Construction Paper
Poster Board
Small Pencil Boxes
Labels
Dry Erase Boards and Markers
Artist Paint Brushes
Personal Paint Sets
Glue
Medium Sized Wastebasket
---
---
St. Paul's Episcopal Church
215 Ann Street
Beaufort, NC  28516
252-728-3314
church@stpaulsbeaufort.org
www.stpaulsbeaufort.org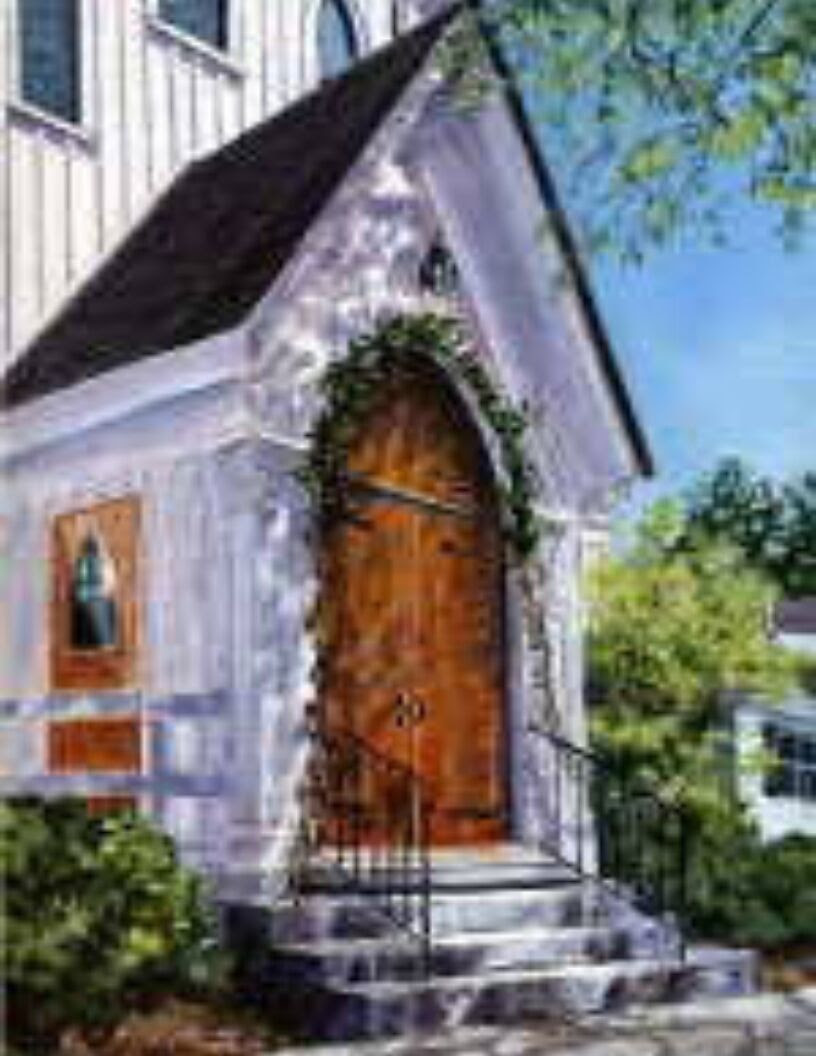 Copyright © 2020 St Pauls Episcopal Church, All rights reserved.
You are receiving this email because you opted in via our website.Our mailing address is:

St Pauls Episcopal Church

215 Ann Street

Beaufort, Nc 28516