---
---
From the Rector:

Dear Friends:
I spent the day at Trinity Center with the Executive Council of the Diocese discerning mission priorities for the coming year. It was wonderful to be able to be there in person with other members of council; and as a special bonus seeing faces of departing campers climbing into their parents car's after a memorable week. Given what we were facing a year ago this time with the closure of Trinity because of the pandemic this was positively joyful. The Bishop invited us throughout the day to pray the same way he had been praying with the children all week. Simply using petitions that focused on thanksgiving, the needs of others, and praying specifically for the communities in which we lived . I offered thanks for Saint Paul's; especially your adaptation and full participation in virtual worship, your ingenuity , resourcefulness, and your care for one another. I prayed for those among us who are ill or struggling. I prayed for our civic leaders by name and the good work they are doing to preserve and care for the needs of our county and town. The council also spent time talking about this new phase we are in as the pandemic lessens and we are returning to a new reality. What was once is no more. We have been changed by what we have lived through. Indeed there is a book out now called " We Shall be Changed." Its a collection of essays about the church post pandemic. It is a short read and one which we will be doing as part of Adult Formation this Fall.
As the day winded down we were invited to walk the property to see the beauty of earth and sky and sea which is so much a part of our lives on the Crystal Coast. I was reminded of seeing the sun going down and watching from the fort those boats returning in mass for weigh in at the Big Rock. What a glorious sight.
I invite you this week to consider what you are thankful for , who you are concerned about ,and how you can support our communities and those who lead them. Do it as a living in the moment meditation whether you are taking your daily walk with the dog, doing the dishes, weeding the garden or drifting in your boat. Just make sure you do it. It changes us when we can be aware and grateful. And it changes the world.
Keep the Faith and Let the Faith keep you.
Tammy +

* Hope to see you at Juneteenth with our friends from Faith Tabernacle!



---
---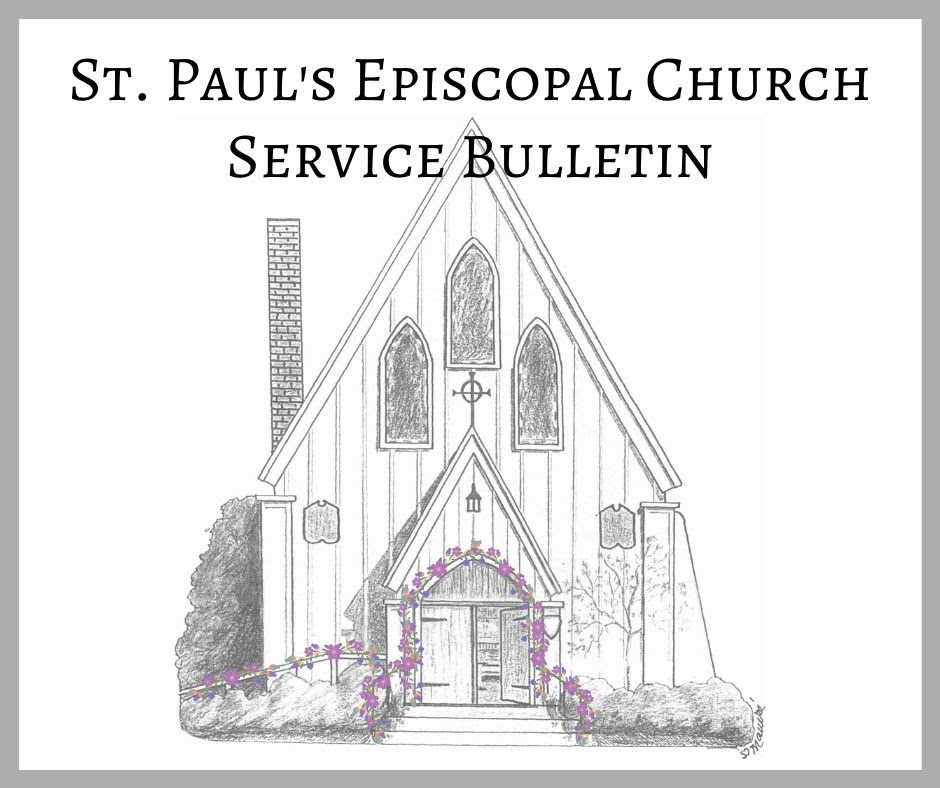 June 20, 2021: The Fourth Sunday after Pentecost
8:00 a.m. Holy Eucharist, Rite I
10:00 a.m. Holy Eucharist, Rite II  service bulletin may be found here or by clicking the above graphic.

10:00 a.m. services are available Live Streamed or to watch on-demand:
St. Paul's Facebook page and St. Paul's YouTube channel.
---
---
Upcoming
June 23 Noon Holy Eucharist
June 27 The Fifth Sunday after Pentecost
8:00 a.m. Holy Eucharist, Rite I
10:00 a.m. Holy Eucharist, Rite II

10:00 a.m. services are available to watch on-demand:
St. Paul's Facebook page and St. Paul's YouTube channel.
---
---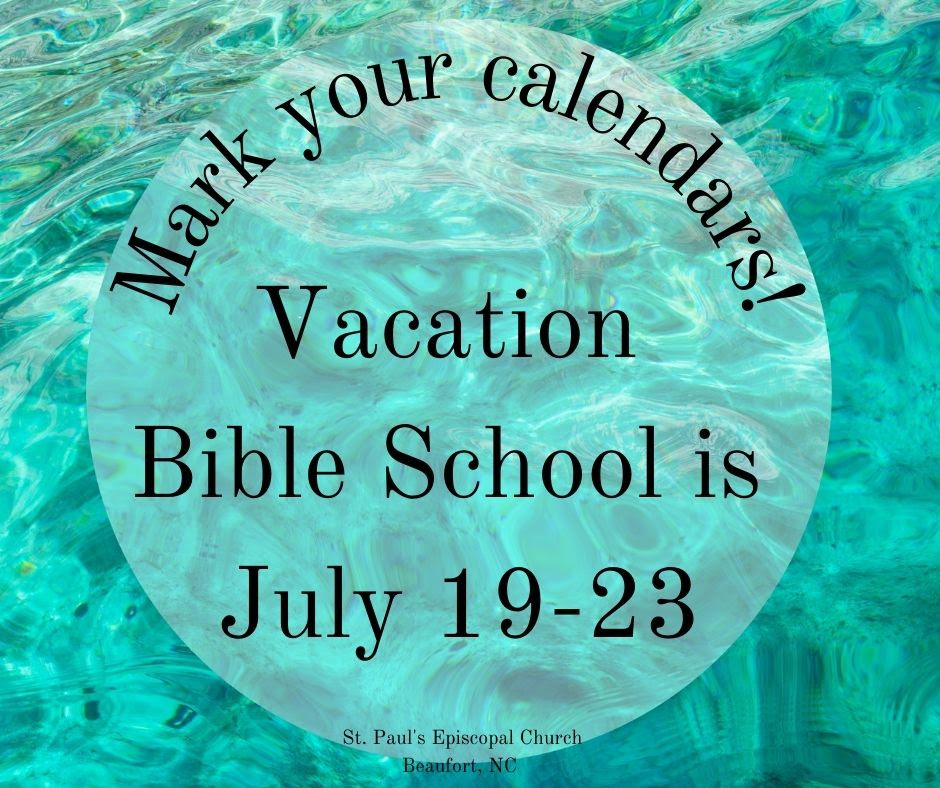 Mark your calendars!
Vacation Bible School for ages 3-12. BE HEALED is our theme this year for Vacation Bible School. We invite you to join us the week July 19-23. We welcome adult volunteers to join Rev. Tammy.
---
---
Hello and happy summer to all of our St. Paul's members and friends,
We are so happy for our community and our church to return to a sense of normal life once again. Again, thank you to all who supported the ECW Fall Bazaar last year in the midst of Covid-19, and thank you for helping us find success with the new online format. Happily, this year we will be able to return to an in-person event which is set for Saturday, November 13, 2021. Please mark your calendars and plan to be a part of the fun.

We will retain some of the online components that worked so well for us last year and incorporate them into a hybrid format, with pick up on November 13th. Online auction and sales will be, as last year, from October 15 – November 1. We know that this dual plan will serve us well, and we have already begun meeting and making plans.

Included is a list of all of our co-chairs, and key workers as best as we know them at this time. Maybe we have left your name off by accident. Give us a shout! We need you and want you to be on our team. Won't you please reach out to anyone on this list and offer to help? The proceeds from the Bazaar support our most important community ministries, and we know that our neighbors in need are counting on us once again.

Stay tuned for more information in the weeks and months to come. The 2021 ECW Fall Bazaar train is leaving the station. All aboard!

Cindy Cash and Laura Snyder, co-chairs

Bazaar Co-Chairs

Cindy Cash
cindy.cash1117@gmail.com
252-230-0719

Laura Snyder
laurahsnyder@gmail.com
919-417-3233

Finance and Technology
Mary Duane Hale
maryduane@atlanticbeachrealty.com
252-723-3601

Tech Support
Jean Kiesow
jeankiesow@aol.com
860-778-7839


Online Bazaar with pre-orders and pick-up on November 13, 2021:

Unique Treasures and Arts – Online Auction
Sarah Jo Safrit
sarahjows66@gmail.com
252-241-4615

Assisted by: Doris McMullen, Carol Sadler, Alicia Ragsdale, Donna Ivey, and Trish Shepherd, Jimmy Pake

Baked Goods – Online
Len Gilstrap
lengilstrap@gmail.com
252-241-1479
Ann Carter
252-241-8750
Assisted by: Diane Meelheim and Vicki Morris

Frozen Foods – Online
Allison DuBuisson
adubuisson123@gmail.com
252-723-2104

Sylvia Wheatly
swheatly89@gmail.com
252-422-5756
Assisted by: Norma Gardner

Country Store – Online
Missy Bailey
msmbailey2@gmail.com
252-393-8317

JoAnn McComas
252-728-3469
Assisted by: Imogene Clawson

Box Lunches – pre-ordered Online
Jeanette Holland
jeanette@jeanetteholland.com
Assisted by: Many, many willing hands!

Traditional in-person Bazaar on November 13, 2021:

Second Go-Round
Peggy Stallworth
252-444-4540

Susan Schmidt
susu@susanschmidt.net
252-269-0032
Debbie Corbett-Cooper
252-732-1784
dcooper13@verizon.net

Jewelry Boutique
Eva Higgins
919-210-5536
elhiggins@nc.rr.com

Anna deButts
adebutts@gmail.com
919-605-9244

Christmas Boutique
Lynda Phillips
lydnbeau@gmail.com
252-732-0713

Laura Mosier
laurmosr@gmail.com
484-400-6575

Gourmet Kitchen
Rosemary Green
rosemarygreen@ec.rr.com
252-241-6801

Cash Raffle – Sales both online and in-person on November 13
Barbara Bryan
emgee12169@yahoo.com
336-580-7576

Clean up / Re-set Committee
Chairs and Helpers needed to put the Parish Hall back together!

2022 Bazaar Co-Chairs
Chairs needed! Please come work with us now and learn the ropes.
---
---
Those for whom prayers have been requested:
for members of St. Paul's Family and for Friends and for the Departed.

(All persons listed must give permission for their name to be included in St. Paul's public prayer request list. This is to protect their privacy and respect their wishes.)
---
---
Outreach for June – Young Life – Crystal Coast
Young Life is a world-class organization for adolescents. Staff and volunteers enter the world of kids, focusing on what matters to them – fun, adventure, friendship, and a sense of significance. In doing so, leaders earn the privilege of talking to them about something that they believe matters most of all – the truth about God and His love for them. Crystal Coast Young Life is building relationships, with high school friends, through various forms of contact work. Each week Club (gatherings that are controlled chaos designed to break down barriers and lead into a simple message about Jesus) and Campaigners (small group Bible studies) are hosted. Additionally, friends are invited each summer to camp, which is described consistently as the best week of their lives. Beginning in 2013, several members of St. Paul's were instrumental in the formation of this new chapter, and the vestry and discretionary fund have generously helped with funding. As the ministry continues to grow, there is a need for volunteers for the committee and also adult leaders. Contact Katie Sherman, parish liaison, at mrs.sherman@gmail.com.

If you would like to donate to this month's outreach program, please do so through "Online Giving" on our website (www.stpaulsbeaufort.org). Alternatively, you may donate with a check payable to St. Paul's Church with "Outreach" in the Memo line. Checks may also be mailed to the church.
---
---
Pastoral Care
Please contact the office at 252-728-3324 if you have a pastoral emergency. For all other needs or questions please email church@stpaulsbeaufort.org.
---
---
St. Paul's Episcopal Church
215 Ann Street
Beaufort, NC 28516
252-728-3324
church@stpaulsbeaufort.org
www.stpaulsbeaufort.org