---
---
From the Rector: There is a cashier at "The Pig" named Nina. She is always ,and I mean without fail, always kind. She makes sure your bread is not smashed by putting it in last, and on top. She checks your eggs for cracks. She separates your frozen and cold foods from your rotisserie chicken. She also concludes every transaction with the phrase " have a blessed day." People will choose to check out in her line when other lines are open because they do not want their bread ruined or because they appreciate someone doing their job right or simply because they are longing to hear an encouraging word. I must admit that there are some days when my cynicism collides with her "evangelism". And yet, is that not the point? While I have not asked her, I am certain that she is witnessing to something outside of herself if the small cross worn around her neck is any indication. Does she know that there is someone who has noticed ? Does she know that she is showing people the Gospel through how she does a job that most folks might see as invisible?
The Swiss moral philosopher Henri Frederic Amiel wrote : " Life is so short and we have never too much time for gladdening the hearts of those who are traveling the dark journey with us. O be swift to love, make haste to be kind."
"Be swift to love and make haste to be kind. " The world needs so much more of both and It may well be the only Gospel anyone ever experiences. It can begin with you as you keep the faith and let the faith keep you.
Tammy+
---
---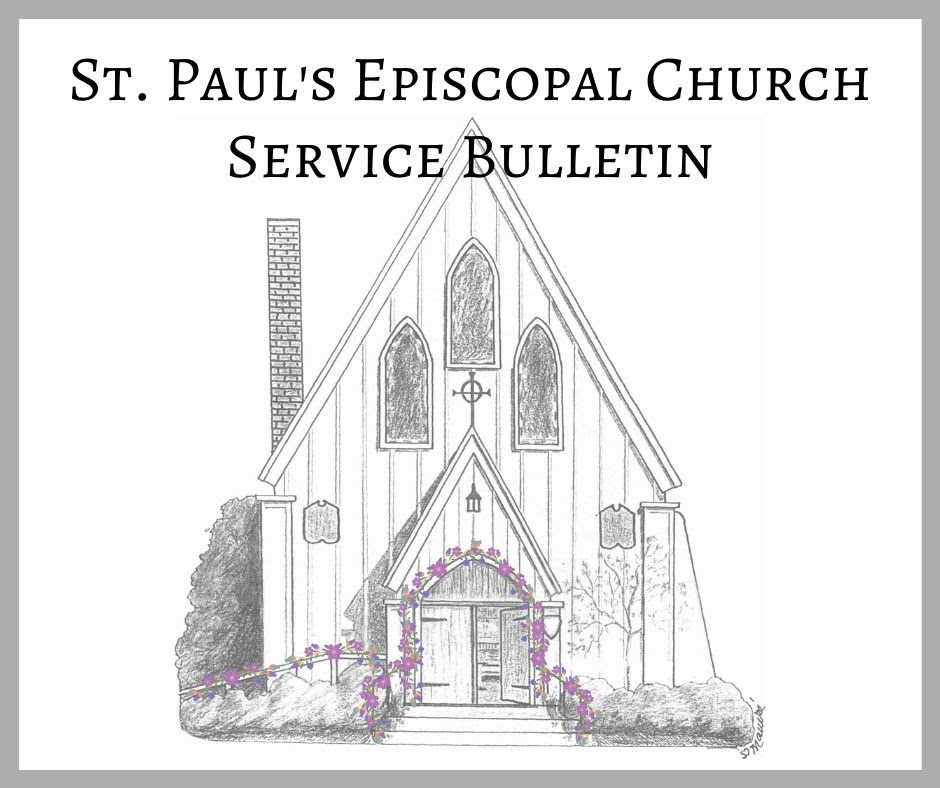 September 26, 2021: The Eighteenth Sunday after Pentecost
8:00 a.m. Holy Eucharist, Rite I
9:30 a.m. Sunday School (Adult classes begin Oct. 3)
*10:45 a.m. Holy Eucharist, Rite II service bulletin may be found here or by clicking the above graphic.

* note time change
10:45 a.m. services are available live stream or on demand on:
St. Paul's Facebook page and St. Paul's YouTube channel.
---
---
Upcoming
September 29 Noon Holy Eucharist
October 3 8:00 a.m. Holy Eucharist, Rite I
9:30 a.m. Sunday School
10:45 a.m. Holy Eucharist, Rite II

10:45 a.m. services are available live stream or on demand on:
St. Paul's Facebook page and St. Paul's YouTube channel.
---
---
SUNDAY SCHOOL Parents If your child misses Sunday School, please bring them to the Parish House before the Holy Eucharist service begins. The children will be in an extended Sunday School program each Sunday from 9:30 a.m. until The Peace, when they will be brought back into the sanctuary for the remainder of the service. We want to give you a chance to worship without distraction and the children a chance to worship and learn freely.
Parents may register their children for Church School by clicking here or by visiting stpaulsbeaufort.org and clicking the Get Involved link at the top of the page.

Adult classes will start on October 3rd.
---
---
IS GOD CALLING YOU TO HELP with Afghan Refugee needs? St. Paul's is participating in a project to meet the immediate needs of Afghan Refugees coming to Ft. Pickett, Blackstone, Virginia. We will purchase tooth brushes, tooth paste, soap, feminine hygiene pads, etc. and will get them to the Red Cross in Ft. Pickett. Please send a check or online donation designated Afghan Refugee Needs. Any donation is helpful. We suggest $20 or $40.

You may make a donation online at the St. Paul's website, www.stpaulsbeaufort.org, Please be sure to indicate on your donation that it is for the Afghan Refugee Needs collection.
---
---
---
---
St. Paul's ECW Bazaar Well … first the greatest news! Our 2021 Fall Bazaar is on! Everyone is working hard, and very excited.

Now … the not unexpected, but challenging news. Due to rising Covid numbers, we have made some adjustments to our 2021 Bazaar.

Here goes:

1. We will not be having inside in-person sales. We will add "nice" kitchen, Christmas and jewelry/accessory items to the online auction. These are items that can start with a $15 bid.

2. All other items from those three rooms will go to 2nd Go Round, which will be now be held outside under a tent.

3. Our online sales will go live on Friday, Oct. 15 and close on Saturday, Oct. 30 at 9pm.

4. All preordered/prepaid items will be pickup on Friday, Nov. 12! We will follow the same pickup system as last year. The public will not be in the Parish Hall. This pickup day is one day earlier that usual so please plan accordingly.

5. On Saturday, Nov. 13 we will have our outside 2nd Go Round, under the big tent.

6. We will not be serving lunch this year. Our lunch committee felt it was not a good idea to bring too many folks into the kitchen to prepare food, but they are already thinking about next year.

We will send out more info later, but we wanted you to be aware of these changes.

Just a few more things:

Our chairpersons need to hear from you! For the Country Store, Frozen Foods, Baked Goods, Unique Treasures and Art Auction, Bedazzled Jewelry, Fine Kitchenware, and Haute Holiday, we need all items in hand by October 1st so that we can take pictures of them for online sales. That leaves us less than 10 days to pivot and rework our plan. The list of chairpersons is below.

Let's get going!

Thank you all for your amazing work on the Bazaar. With the money we raise we will do God's work in our community.

Laura and Cindy
---
Calling all artists and shoppers-the bazaar needs you! We have and continue to receive amazing contributions from folks' china cabinets for the bazaar's auction. We need your artwork, too. Last year our artists really helped boost bazaar coffers and enhanced the homes of lucky buyers. Please help us repeat history.
We hope you will be generous again and purchase something from a local business for the auction. Each gift certificate went for more than the value in 2020. Let's do that again. So far we have gift certificates donated by a parishioner to Aqua and to Clawson's. We also have Polish pottery items purchased from Ginny Gordon's Gifts and Gadgets.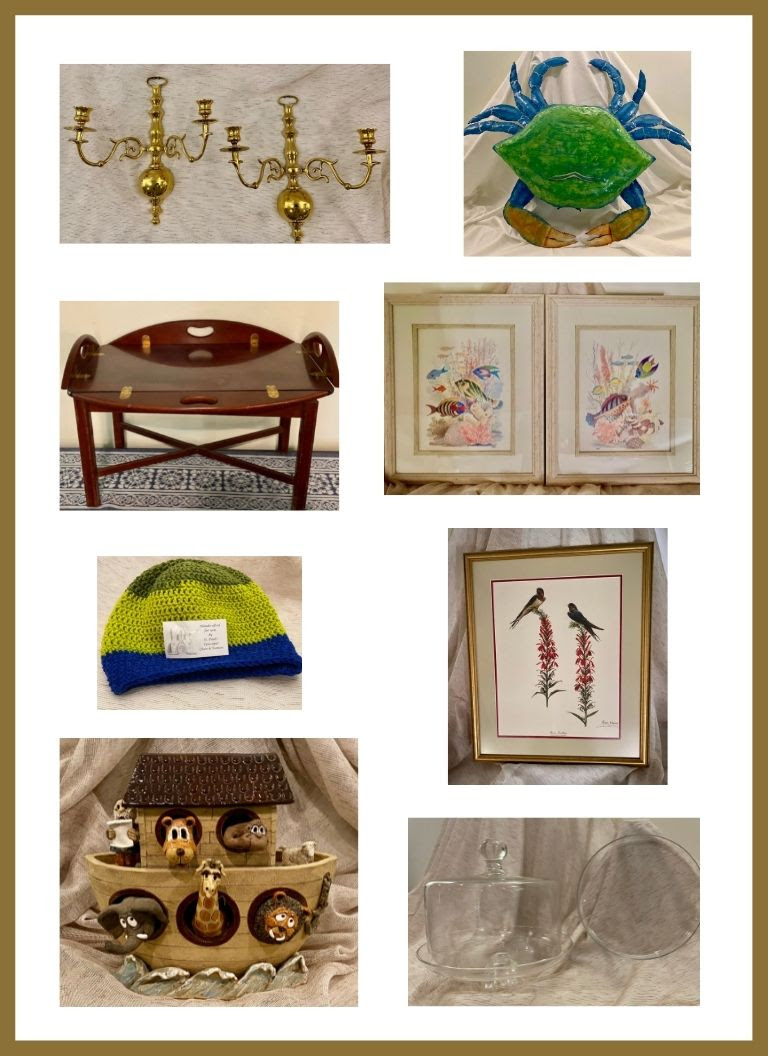 Drop your donations off at the church office. Call Sarah Jo Safrit at 252-241-4615 if you have questions, want suggestions or need your donation picked up.
---
The Frozen Foods Committee is gearing up for another successful sale at the bazaar. We will focus on tried-and-true favorites that have sold well in the past.
Again this year, frozen foods will be sold online starting October 15 – everything will be pre-ordered and pre-paid before the bazaar.
We will be calling parishioners who have provided frozen dishes in the past. If you are new to St. Paul and would like to participate, please reach out to one of us to discuss what you might make.
We will need these foods:
Soups and stews, such as chili, Brunswick stew, chowder, beef or chicken with rice or noodles, and some vegetarian soups. Plan to cook at least 5 quarts of each item.
Casseroles such as quiches, ravioli, enchiladas, breakfast casseroles, pot pies. Each casserole should serve at least 4-6. Plan to cook at least 5 of your item.
YOU WILL NEED TO PURCHASE QUART CONTAINERS (STACKABLE) AND CASSEROLE CONTAINERS. EVERY CONTAINER WILL NEED A STANDARD ST. PAUL LABEL, WHICH WILL BE AVAILABLE ON THE BACK PORCH OF THE OFFICE BEGINNING SEPTEMBER 12.
FOODS MUST BE FROZEN SOLID WHEN DELIVERED TO THE CHURCH.
Frozen items can be brought to the Parish Hall on Monday, Tuesday or Wednesday, November 8-10, from 10:00-12:00.
Let's get started! Frozen Foods is a big money-maker for Bazaar, and we look forward to working with our wonderful St. Paul cooks.

Frozen items can be brought to the Parish Hall on Monday, Tuesday or Wednesday, November 8-10, from 10:00-12:00.
Let's get started! Frozen Foods is a big money-maker for Bazaar, and we look forward to working with our wonderful St. Paul cooks.

Sylvia Wheatly
Allison DuBuisson
---
ECW Bazaar Co-Chairs
Cindy Cash
Laura Snyder

Finance and Technology
Mary Duane Hale

Tech Support
Jean Kiesow

Unique Treasures and Arts
Sarah Jo Safrit
Assisted by: Doris McMullen, Carol Sadler, Alicia Ragsdale, Donna Ivey, and Trish Shepherd, Jimmy Pake

Baked Goods
Len Gilstrap
Assisted by: Diane Meelheim and Vicki Morris

Frozen Foods
Allison DuBuisson

Sylvia Wheatly
Assisted by: Norma Gardner

Country Store
Missy Bailey
JoAnn McComas

Second Go-Round
Peggy Stallworth
Susan Schmidt
Debbie Corbett-Cooper

Jewelry Boutique
Eva Higgins
Anna deButts

Christmas Boutique
Lynda Phillips
Laura Mosier

Gourmet Kitchen
Rosemary Green

Cash Raffle
Barbara Bryan

---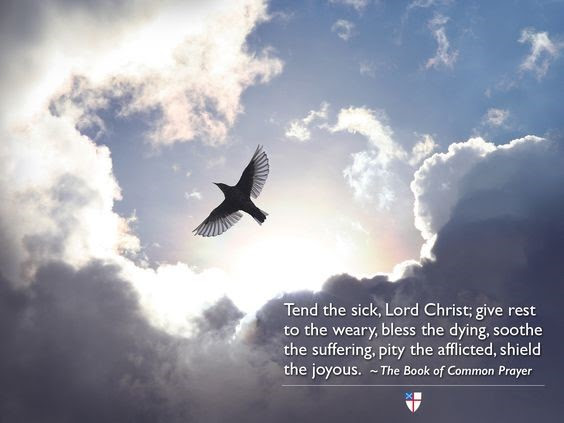 Those for whom prayers have been requested:
for members of St. Paul's Family and Friends.

(All persons listed must give permission for their name to be included in St. Paul's public prayer request list. This is to protect their privacy and respect their wishes.)
---
---
Outreach for September – Meals on Wheels Meals on Wheels of Beaufort operates under the Beaufort Fellowship of Churches. This is a service which delivers not only a balanced meal but also a friendly smile and contact for homebound folks. We are currently serving good, balanced meals plus fruit or desert prepared by Donna's Deli at Piggly Wiggly in Beaufort. The meals are picked up between 10:35 and 10:45 a.m. and then delivered Monday through Saturday by volunteers from Beaufort Ole Towne Rotary, St. Paul's Church, Ann St. UMC and One Harbor Church. All donations are used to pay for Meals and are greatly appreciated. We also welcome new volunteers to deliver Meals. Volunteers usually deliver Meals one day per week for a month duration and/or sub now & then. It takes about 1 to 1 ½ hours to deliver meals on a given day and really makes you feel good to have given of yourself. To inquire about Volunteering, please call Sandra Howarth at 252-241-4292.
Please consider making a special donation to Meals on Wheels during the month of September. For further information or to inquire about volunteering, please call Sandra Howarth at (252) 241-4292.  If you would like to donate to the Meals on Wheels program, please do so through "Online Giving" on our website (www.stpaulsbeaufort.org).  Alternatively, you may donate with a check payable to St. Paul's Church with "Outreach" in the memo line.  Checks may also be mailed to the church.
---
---
Pastoral Care
Please contact the office at 252-728-3324 if you have a pastoral emergency. For all other needs or questions please email church@stpaulsbeaufort.org.
---
---
St. Paul's Episcopal Church
215 Ann Street
Beaufort, NC 28516
252-728-3324
church@stpaulsbeaufort.org
www.stpaulsbeaufort.org