---
---
From the Rector:
Dear Friends:
Wilson, our ninety two pounds of  rambunctious golden retriever puppy is prone to impulsive behaviors. He jumps when he is supposed to sit. He bites when he is supposed to sniff. He lunges when he is supposed to trot. He has eaten my Christmas shoes with rhinestones and my Easter shoes with tassels. He also ate my husbands glasses; and when x-rayed, his vet discovered assorted paper clips too. Then there is the matter of the hundred dollar bill I caught him crunching straight from my wallet. The trainers  keep saying that this is what puppies do. I have never had a puppy who does any of this all of the time. What exactly constitutes a dog's nature? How does my nature effect Wilson's nurture when I catch him swallowing the tassels off my shoes or the cash in my wallet?
Living with a puppy has made me ask lots of questions about nature verses nurture.   What exactly is in our nature? What exactly did God come among us to do? What do we have control over and what controls us? I have stacks of books on my shelves exploring that very question but  it all boils down to John 3:16.
" For God so loved the world that he gave his only begotten son that whosoever believes in him shall not perish but have everlasting life." 
For God so loved
that he came down among us as one of us and was willing to live fully into this tension between nature and nurture as we wrestle with the better and lesser angels of our nature until we can find a blessing in the midst of the madness. What we do, we do not do alone as we keep the faith and let the faith keep us.
Blessings all,
Tammy+
---
---
May 15, 2022: The Fifth Sunday of Easter, Holy Eucharist
The service bulletin for the 10:45 a.m. service may be found here: Holy Eucharist Service Bulletin. The order of service may be found on page 355 of the Book of Common Prayer. If you are unable to attend in person please join St. Paul's on their St. Paul's Facebook page at  10:45 a.m. for live stream of our service.
Sunday, May 15  The Fifth Sunday of Easter
8:00 a.m. Holy Eucharist, Rite I
9:30 a.m. Christian Education
10:45 a.m. Holy Eucharist, Rite II
Wednesday, May 18    
12:00 p.m. Noon, Holy Eucharist
                                                               
The 10:45 a.m. Service on Sunday and the Wednesday noon service will be live streamed and available to watch on-demand following the service: St. Paul's Facebook page and St. Paul's YouTube channel.
---
---
We are so pleased to be welcoming Bishop Skirving on Sunday, May 22, 2022 for his annual visitation where he will also confirm and receive five youth and four adults. As part of our celebration, there will be a reception in the parish hall immediately following the 10:45 a.m. service–and we would love your help!! If you are able to help supply a portion of the following please either click on the sign up button 
 or call Allison DuBuisson at 252.723.2104.
10 pound cakes (whole, unsliced)
8 dozen deviled eggs
3 dozen pimento cheese sandwiches cut into quarters (for ease of serving we are asking that sandwiches have crusts removed and be cut into quarters so one dozen sandwiches will yield 48 quarters)
Please deliver food between 9:00 a.m. & 10:00 a.m. on Sunday morning.
Many, many thanks!
---
---
Join the Choir! Practice every Wednesday, beginning May 18, at 6:00 in the Parish Hall. We will be beginning our after-Easter regimen of simpler music than we typically do at other times of the year.  This is the perfect time to come and see if choir is for you. If you love to sing, there is a place for you.
---
---
Vacation Bible School is coming!  The theme this year will be Wade in the Water. We will explore stories where water is the central theme of God's Saving Grace. If you are interested in volunteering contact Mary Duane Hale. St. Paul's will hold vacation bible school on June 27 – July 1.
Be on the lookout for more information in the coming weeks.
---
---
Baking for Good
pre-orders are open in advance of the
May 21st Olde Beaufort Farmers Market
.  Please 
click here
 to go to
 Beaufort Baking for Good
and follow the prompts.
When you are ready to checkout, the checkout page is a vast block of gray, with a quite small 'Checkout' in the middle of the page.  That's what you click. 
…and remember:
orders close at midnight next Wednesday, May 18, 2022
so our bakers have time to work their kitchen magic
. 
Happy ordering!
---
---
Canning jars needed The ECW has begun collecting canning jars for the Fall Bazaar. If you have any you would like to donate please drop them by the office.
---
---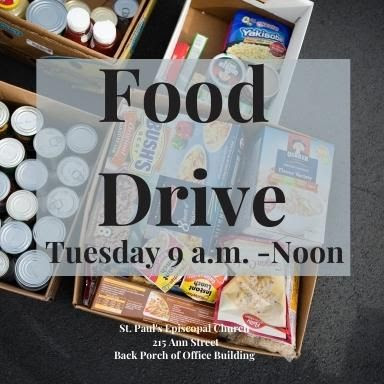 Food Drive 
Tuesday,  9:00 a.m. to 12:00 Noon
Back porch of office building.
---
---
Those for whom prayers have been requested:
for members of the St. Paul's Family and Friends.(To add your name or the name of a loved one to the prayer list, contact the St. Paul's Office at 728-3324 or email church@stpaulsbeaufort.org. Individuals will remain on the prayer list for thirty days.  To keep the person on the list longer, simply contact the Office with that request at the end of the thirty days.  The person to be listed must give permission for their name to be included in this public prayer request list.)
---
---
May Outreach – Hispanic Ministries (VOCES, Farm Workers) The Episcopal Farmworker Ministry responds to the physical, emotional, and spiritual needs of migrant and seasonal farmworkers and their families, and actively supports opportunities for them to become self-directive. They seek to minister to farmworkers in three principal ways: through direct services, through development and support of programs that work towards the empowerment of farmworkers and through encouraging leadership development, and through advocacy and education that aim toward systematic change at the local and state levels.
La Iglesia de la Sagrada Familia, the Episcopal Mission supported by the Episcopal Farmworker Ministry, is the spiritual home to hundreds of farmworkers and immigrant families. More than 400 worshipers gather each week for Spanish-language services officiated by The Rev. Tony Rojas, the Episcopal Farmworker Ministry's Sacramental Minister.
The Episcopal Farmworker Ministry depends upon hundreds of donors and community volunteers to operate. From 10,000 to 15,000 individuals pass through EFM's doors each year, and the ministry must raise nearly $300,000 annually to operate.  More information on the farm worker program is available at www.EpiscopalFarmworkerMinistry.org.
VOCES Hispanic Resources Center, led by Lizzet Prest, aids vulnerable residents by providing emergency and relocation assistance, transportation to medical facilities and translation services 24/7. Contact information for VOCES is
voceshrc@earthlink.net
. The helpline number is 252-725-0501 and office is 252-728-1717.  To learn more about this ministry contact Pennylloyd Baldridge at 252-269-0093.
If you would like to donate to Hispanic Ministries, please do so through "Online Giving" on our website (
www.stpaulsbeaufort.org
).  Alternatively, you may donate with a check payable to St. Paul's Church with "Outreach" in the Memo line.  Checks may also be mailed to the church.  Contributions will be split between the Episcopal Farmworker Ministry in Newton Grove and an organization that supports our local Hispanic population.   The local monies will be given to VOCES, a local not-for-profit organization supporting our Hispanic community.
---
---
Pastoral Care
Please contact the office at 252-728-3324 if you have a pastoral emergency. For all other needs or questions please email church@stpaulsbeaufort.org.
---
St. Paul's Episcopal Church
215 Ann Street
Beaufort, NC  28516
252-728-3324
church@stpaulsbeaufort.org
www.stpaulsbeaufort.org