Dear Friends:
21 "No one sews a piece of unshrunk cloth on an old cloak; otherwise, the patch pulls away from it, the new from the old, and a worse tear is made. 22 And no one puts new wine into old wineskins; otherwise, the wine will burst the skins, and the wine is lost, and so are the skins; but one puts new wine into fresh wineskins."[a]
Mark 2:21-22 NRSV
This parable came to mind today like a streak of lightening as I wrestled with our unfolding days. Everywhere you keep hearing a version of the phrase "we are living in unprecedented times." To be sure this is unlike anything most of us have ever known. Some of us have known far far worse on any number of fronts and are holding our ground. I listened to the video diary of a physician who described it best when she said: (my paraphrase) "I have my feet in both worlds right now. The world that says life goes on and I need a little retail therapy and I am going to go out and pursue it… and the world that observes once there, it's not safe yet, it's too soon, people are not following precautions, go home." She went home. Today. Tomorrow perhaps she will make a different choice. Others are making different decisions equally as vital and compelling for them choosing to dine out with precaution, shop with the same, avoid high traffic environments. We may agree with neither or find ourselves somewhere in between. This is where this parable comes in. We cannot put the new normal on top of the old normal. It will tear apart the fabric of our lives. Something new is required of us that is peculiar for a time such as this. That something new requires us to look at what was and see where God is beckoning us forward into new ways of being church, new ways of being community, new ways of being period. Where God is calling us not just us for our own sake but everyone else's sake too.
One such way will happen (for the time being) on Sunday. Many of you have said how much you have missed the Eucharist. You have suggested a variety of ways to make that happen safely. I have heard and appreciated many of your thoughtful comments and suggestions. I share your loss and have been thinking through this with other colleagues about how we might experience it without diminishing the sacrament or our theological beliefs as Anglican/Episcopal Christians?
One such way is through what is known as "Spiritual Communion." The Prayerbook and our polity make provision for that in the service of Ministration to the Sick. (rubric/rule in italics on pg 457 BCP) Our world is ill at present and gathering in person would risk sickness not just for one but for many. "We who are many are one body because we all share one bread one cup" is a response said at many a eucharistic table at the invitation to communion. It means something very different and powerful and altogether true at this moment in time. I look forward to hearing your experience of it on Sunday. The service will be like any other Eucharist except at the time of distribution we will offer a prayer of reception instead of consumption of the elements. I invite you to read Ruth Myers explanation at the link below. She is a liturgical scholar at the Church Divinity School of the Pacific Spiritual-communion-in-a-season-of-social-distancing. You are encouraged to wear red on Sunday and download your pictures on Facebook. Children are invited to pick up a streamer from the basket outside the parish office's back door and wave it proudly.
I keep correcting people who say the church has been shut down. We have never shut down nor have we ever stopped worshipping during this pandemic nor shall we. The church has been blown wide open in ways that we are only now seeing. If there can be a bright spot in this whole landscape, surely livestreaming to the homebound, the stranger and the friend who wanted to come but was too afraid to do so in person is one of them.
Keep the faith, and let the faith keep you,
Tambria Lee +
---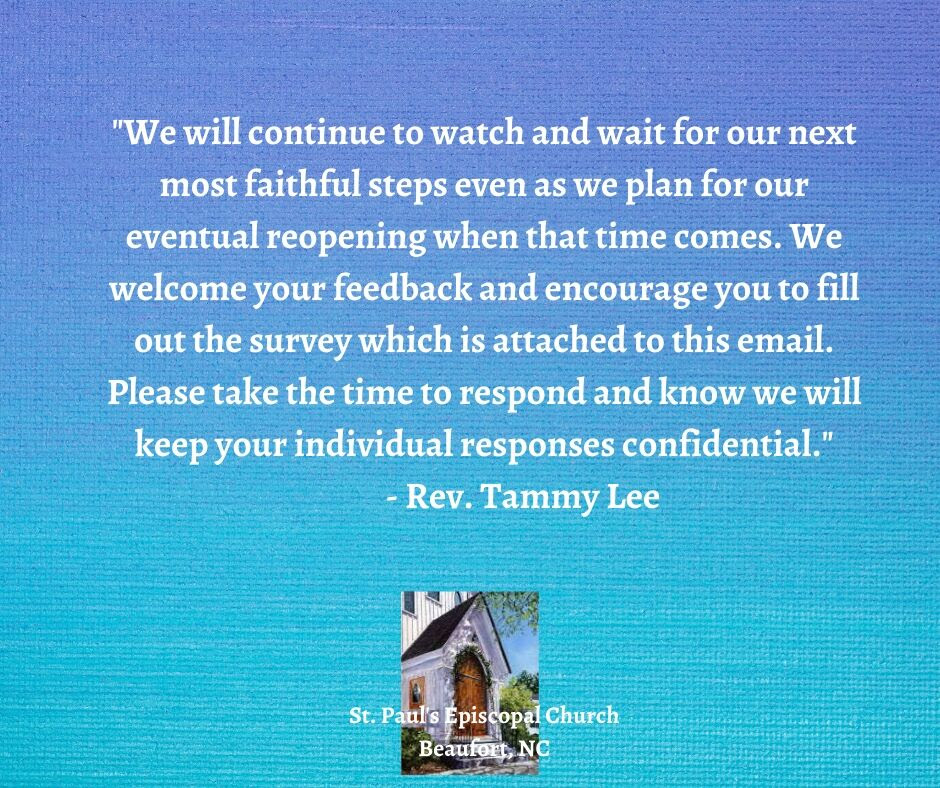 ---
Survey
We need your help as we discern our next most faithful steps. With this in mind, please complete the following: St. Paul's survey
Worshipping From Home
Sunday, May 31: The Day of Pentecost: Whitsunday Rite II 9:00 a.m.
Join St. Paul's on their St. Paul's Facebook page at 9:00 a.m. for live streaming of our service. The service booklet can be found here: Pentecost_Service_Bulletin_Live_Streaming. The order of service may be found on page 355 of the Book of Common Prayer.
Sunday's readings can be found here: Pentecost. We will have the following opportunities to connect through online experiences. Be sure to look for emails and check our Facebook page for more information. Subscribe to our YouTube channel here. Follow us on Instagram .@stpaulsbeaufortnc.
Daily Lectionary Readings may be found here: The Lectionary Page.net.
Children's Chapel, Thursday, June 4, 2020 will be posted on St. Paul's Facebook at 12:00 p.m. Don't forget to have your light and your bell ready.
Sunday, June 7: The First Sunday after Pentecost: Trinity Sunday, 9:00 a.m. led by St. Paul's youth.
Join St. Paul's on their St. Paul's Facebook page at 9:00 a.m. for live streaming of our Morning Prayer service. The service booklet will be posted once it has been finalized.
Watch any of the services we have live streamed at any time!
All of the services from Holy Week are available to be viewed again if you missed any of the services that were live streamed on Facebook Live, or would like to view them again, the services can be viewed at St. Paul's Facebook. and on St. Paul's YouTube channel.
Please note that you do not have to "be" on Facebook to participate in the live streams of services. All you have to do is click Facebook and when it asks if you want to create an account click "Not Now". You will be able to see all of St. Paul's posts, but not able to comment on them.
If you have any difficulty connecting to any of the above links, please contact the church office at church@stpaulsbeaufort.org. We will be happy to call you and walk you through the steps.
ECW Fall Bazaar
The BAZAAR PLANNING MEETING will be held on Sunday, June 14th at 10:30am. This will be a Zoom meeting for all chairpersons. Several days before the 14th, you will receive an email invitation inviting you to be part of the discussion. This is a very important meeting and we hope you will attend online! If you have any questions, please contact Laura Snyder at laurahsnyder@gmail.com or 919-417-3233 or Cindy Cash at cindy.cash1117@gmail.com or 252-230-0719.
Pastoral Care
Please contact the office at 252-728-3324 if you have a pastoral emergency. For all other needs or questions please email church@stpaulsbeaufort.org.
May Outreach – Hispanic Ministries (VOCES, Farm Workers)
Hispanic Ministries is our outreach project for May. Contributions will be split between the Episcopal Farmworker Ministry in Newton Grove and an organization that supports our local Hispanic population. The local monies will be given to VOCES, a local not-for-profit organization supporting our Hispanic community.
How To Support Agricultural Workers Amid the COVID-19 Pandemic
On the Episcopal Farmworker Ministry (EFwM) website, Episcopal Farm Worker Ministry-2020-we-support-agricultural-workers-amid-the-covid-19-pandemic you can now view a letter from their staff that breaks down how COVID-19 is affecting the agricultural workers in Eastern North Carolina and what some of their specific needs are.
The Episcopal Farmworker Ministry responds to the physical, emotional, and spiritual needs of migrant and seasonal farmworkers and their families, and actively supports opportunities for them to become self-directive. They seek to minister to farmworkers in three principal ways: through direct services, through development and support of programs that work towards the empowerment of farmworkers and through encouraging leadership development, and through advocacy and education that aim toward systematic change at the local and state levels.
La Iglesia de la Sagrada Familia, the Episcopal Mission supported by the Episcopal Farmworker Ministry, is the spiritual home to hundreds of farmworkers and immigrant families. More than 400 worshipers gather each week for Spanish-language services officiated by The Rev. Tony Rojas, the Episcopal Farmworker Ministry's Sacramental Minister.
The Episcopal Farmworker Ministry depends upon hundreds of donors and community volunteers to operate. From 10,000 to 15,000 individuals pass through EFM's doors each year, and the ministry must raise nearly $300,000 annually to operate. More information on the farm worker program is available at www.EpiscopalFarmworkerMinistry.org.
VOCES Hispanic Resources Center, led by Lizzet Prest, aids vulnerable residents by providing emergency and relocation assistance, transportation to medical facilities and translation services 24/7. Contact information for VOCES is voceshrc@earthlink.net . The helpline number is 252-725-0501 and office is 252-728-1717. To learn more about this ministry contact Pennylloyd Baldridge at 252-269-0093.
If you would like to donate to Hispanic Ministries, please do so through "Online Giving" on our website (www.stpaulsbeaufort.org). Alternatively, you may donate with a check payable to St. Paul's Church with "Outreach" in the Memo line. Checks may also be mailed to the church.
St. Paul's Episcopal Church
215 Ann Street
Beaufort, NC 28516
252-728-3314
church@stpaulsbeaufort.org
www.stpaulsbeaufort.org