---
---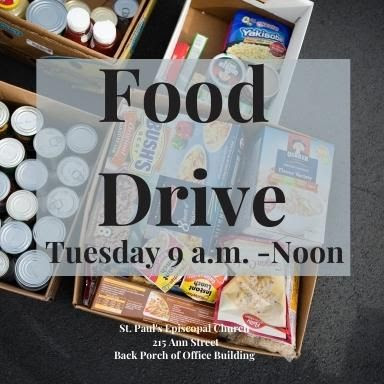 Food Drive 
Tuesday,  9:00 a.m. to 12:00 Noon
Back porch of office building.
This week needs include the following:
1 lb bags of rice
Koolaid
Jello
Tuna 'Pouches'
Hamburger (or chicken) helper
Jelly
Salad Dressing
Pasta & Pasta Sauce
Canned vegetables (except corn & green beans which are in sufficient supply)
'Kids' items such as fruit cups, snack cakes, juice boxes, etc.
Plastic grocery bags for packing orders
Monetary donations are also accepted. You may make a donation online at the St. Paul's website, www.stpaulsbeaufort.org, or by dropping a check off at the church.  Please be sure to indicate on your donation that it is for the Food Assistance Initiative.
---
---
Morning Prayer on Tuesdays at 8:30 a.m.
Holy Eucharist on Wednesdays at noon 
Join us for Holy Eucharist on Wednesday at noon.
The service will also be livestreamed on: St. Paul's Facebook page.
Following the service it will continue to be available on St. Paul's Facebook page*  and will also be available on St. Paul's YouTube channel*.
 *Automatic Closed Captioning is available for Facebook or YouTube by clicking the  
  icon on your browser page.
Baking for Good pre-orders open today in advance of the August 20th Olde Beaufort Farmers Market.  Please click here to go to Beaufort Baking for Good and follow the prompts. When you are ready to checkout, the checkout page is a vast block of gray, with a quite small 'Checkout' in the middle of the page.  That's what you click. …and remember: orders close at midnight next Wednesday, August 17th, 2022 so our bakers have time to work their kitchen magic. 
Happy ordering!
Adeline Talbot
---
---
Church School Registration is now open! Please make sure that you register your young people for Church School for the 2022-2023 school year so we can have an accurate count of who to expect from week to week.
You can grab a paper copy of the registration form from the church office or use this link:  https://forms.gle/fxpAYFZttWc2JczT7.
We are so excited to have your young people join us!
---
---
Hello, Everyone! As you may know, our nursery has not been open since before the pandemic. I would like to see our nursery available again this Fall. You can help us by supplying some new toys, books, and cleaning supplies from our Amazon Wish List here: https://tinyurl.com/stpaulsnurserylist. Thank you all for your constant support of Children's and Youth Ministries at St. Paul's.
Peace,
Ashley Simpson (ashleysimpson@stpaulsbeaufort.org)
---
---
Coffee Hour Set To Return!
The Vestry's Fellowship Commission is delighted to announce that coffee hour will return on September 11th, following both the 8:00 a.m. and 10:45 a.m. services—and we need hosts! Duties include preparing coffee,  lemonade and simple refreshments such as pretzels and cookies. We invite our fellow parishioners to sign up on the master schedule to be posted in the parish hall kitchen or, alternatively, by being in touch by email with  Carol Smith (church@stpaulsbeaufort.org) in the church office with your preferred date and service time.
Many, many thanks and we look forward to seeing you all!!
Look for the sign-up sheet on the bulletin board in the Parish Hall.
---
---
Five Loaves Mission
Are you interested in "serving" others?
 
Volunteers are needed for Five Loaves Mission. 
 
It's on Monday evenings from 4:45-6:15 pm in St. Paul's Parish House. It's a great opportunity to serve free carryout meals one Monday a month (or more frequently if you are interested). 
 
Please contact Nancy Ustach for more information at nustach@gmail.com.
---
---
This year's bazaar silent auction will have a slightly different look. Because of the return to an in-person event which will feature many of our traditional sales rooms, the auction will be limited to gift certificates. Please consider shopping at one of your favorite area businesses (retail or restaurant) and purchase a gift certificate of $50 or higher to donate to the auction. If you'd like to try something a bit different, such as hosting a dinner for 8 or supper for a season, these will be welcomed and should add an extra zing to bidding.
Our gift certificates have gone for more than purchase value and have added significantly to the bottom line. We have commitments already to Friendly Market and Harbor Specialty. We look forward to adding to the list. Commitments are needed by Sept. 15.
If you have questions or want to chat about auction ideas, ECW contact Sarah Jo Safrit.
____________
Although we're in the dog days of summer, now's the time to think about how you can contribute to the success of the ECW Fall Bazaar! The women of St. Paul's ECW are "fast and furious" planning and preparing for the Bazaar!
Today we're writing to you about Frozen Foods, Baked Goods, and the Country Store. All of these items will be sold in the On-line Sale, which will start on October 15, 2022, and end on October 29, 2022. Pick-up by the buyer will be Friday, November 11, 2022. The in-person Bazaar will be November 12, 2022 and you'll soon be hearing more about this.
We need your help! Please read on and see where you can contribute. Remember the Bazaar net proceeds are all do- nated to the various charities St. Paul's support all year long!
Laura Snyder and Jean Kiesow
Frozen Foods
Sylvia Wheatly and Allison DuBuisson will chair the Frozen Foods Committee for this year's Bazaar.
As in the past, we will focus on tried-and-true favorites that have sold well in the past.
In early September, we will start calling parishioners who have provided frozen dishes in the past. If you are new to St. Paul's and would like to participate, please reach out to one of us to discuss what you might make.
We will need these foods:
• Soups and stews, such as chili, Brunswick stew, chowder, beef or chicken with rice or noodles, and some vegetarian soups. Plan to cook at least 5 quarts of each item.
• Casseroles such as quiches, ravioli, enchiladas, breakfast casseroles, pot pies. Each casserole should serve at least 4-6. Plan to cook at least 5 of your item.
New this year, we will have deli-style quart containers for soups/stews available for those who need them.
EVERY CONTAINER WILL NEED A STANDARD ST. PAUL LABEL, WHICH WILL BE AVAILABLE INSIDE THE BACK DOOR OF THE OFFICE BEGINNING SEPTEMBER 11.
Frozen items can be brought to the Parish Hall on Monday, Tuesday or Wednesday, November 7th – 9th, from 10:00 -12:00. FOODS MUST BE FROZEN SOLID WHEN DELIVERED TO THE CHURCH.
Let's get started! Frozen Foods is a big money-maker for the Bazaar, and we look forward to working with our won-derful St. Paul cooks.
Sylvia Wheatly
(252) 422-5756
Swheatly89@gmail.com
Allison DuBuisson
(252) 723-2104
Adubuisson123@gmail.com
____________
Baked Goods
Ann Carter and Len Gilstrap will chair the
Baked Goods
Committee for this year's Bazaar. Items needed include:
Cakes, pies, yeast and sourdough breads, and cookies
Breakfast Breads, such as, coffee cakes, biscuits, muffins, and quick breads
Party Foods, such as, cheese straws, sausage balls, specialty nut mixes, and homemade candies
If you have questions on what to make, please reach out to one of our co-chairs. The perfectpotluck website will once again be used this year for parishioner sign-ups. More information on this website will be provided in future emails.
Baked Goods can be brought to the Parish Hall on Wednesday and Thursday, November 9th & 10th.
Ann Carter
252-241-8750
cartertilebeaufort@gmail.com
Len Gilstrap
252-241-1479
lengilstrap@gmail.com
____________
Country Store
Missy Bailey and Imogene Clawson will chair the Country Store Committee for this year's Bazaar. This is the perfect time to start preparing things for the Country Store.
The Country Store is looking for homemade jams, jellies, pickles, preserves, and other yummy items that are stored in jars!
We are always looking for handmade craft items including aprons, bags, toboggans, scarves, and other crafty items.
The perfectpotluck website will be used for parishioner sign-ups. More information on this website will be provided in future emails.
Please make some special items for our extra special County Store!
Missy Bailey
msmbailey2@gmail.com
252-723-3344
Imogene Clawson
backhandpass2@hotmail.com
252-728-0295
---
---
'The Cathedrals of England' our fall pilgrimage, October 2 to 11,  has recently had two places open up.
To review the full itinerary click here. Should you have questions or need further information please be in touch with Adeline Talbot either at atalbot@studiotraveler.com or 336.312.5654.
We'd love to have you with us!
---
---
Pastoral Care
Please contact the office at 252-728-3324 if you have a pastoral emergency. For all other needs or questions please email church@stpaulsbeaufort.org.
---
---
SUNDAY ANNOUNCEMENTS – THE DEADLINE FOR SUBMISSIONS FOR THE SUNDAY BULLETIN IS TUESDAY AT NOON.  Any request received after Tuesday is NOT guaranteed to appear in that Sunday's bulletin.
FRIDAY EMAIL ANNOUNCEMENTS – THE DEADLINE FOR SUBMISSIONS FOR THE FRIDAY EMAIL IS WEDNESDAY AT NOON.   Any request received after Wednesday is NOT guaranteed to appear in that Friday's email.
All submissions are subject to editing and publication is not guaranteed. Email information to
church@stpaulsbeaufort.org
.
---
St. Paul's Episcopal Church
215 Ann Street
Beaufort, NC  28516
252-728-3324
church@stpaulsbeaufort.org
www.stpaulsbeaufort.org